Lumelang kao feela batho ba lefatše,
(Hello to all people of the world)
I have been intending to wrap up this blog/memoir for quite some time now. Every time I'd start writing a conclusion some new event slightly related to post-PC service would come about. It has been approximately 20 months since I've returned home and some rather significant life events have transpired in the interim. In this final post and entry, I'd like to highlight some of these changes and also reflect on how Peace Corps service has resonated in my day to day life and will most likely continue to do so in the future.
My main goal in each chapter has been to describe not only what I was personally experiencing/working on during my service in Lesotho, but also to help educate on various aspects of Basotho and Southern African culture. Because of that I'm proud of the content I was able to capture in the previous 29 entries. Hundreds of images and more than a dozen videos accentuate my attempts to bring this tiny sliver of the Southern African region to my friends, family, and subscribers. Of course, your unwavering support throughout has been a beacon of motivation. I'm truly thankful for all the kind notes, comments, and emails received during the 27 months in Lesotho.
A Newfound Perspective
I was afforded a perspective that otherwise could not have been achieved while living in the United States: to live the life as a foreign minority for two years. I vividly remember imagining what it would be like before leaving. I figured I would be subject to constant starring and that a perpetual state of anxiety would be experienced on my part. While the former ultimately held true, I was certainly wrong about the social anxiety aspect. It was the opposite, really. Never had I felt more welcomed in an unfamiliar setting in my entire life. All it took was a bit of cross-cultural understanding. That all started with learning the basics of the local language, Sesotho. It reached new heights by learning how to dance like the Basotho. From there- the rest is history.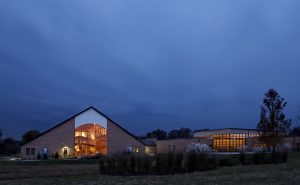 Being back stateside has allowed me to apply this learned perception of others, just in reverse. A good example came about at one of St. Mary of Vernon Church's annual Fish Fry events during Lent. Just as I was sitting down with my family to eat, I noticed a group of 3 young men walk in. There was no mistaking it on my part; they looked exactly like folks I called friends and neighbors for the previous 2 years. I approached them and said hello. Not surprisingly, they told me they were from South Africa- having only recently arrived in the USA to attend a local Seminary school. Through a program that supports young Catholics in developing nations, they were sponsored to become ordained. Afterwards they will return to their respective villages. Naturally, when I spoke some Sesotho to them they were floored and I could see their eyes light up. It was very interesting bonding experience. I even had the chance to play soccer with one of the guys, Sebelo, before he had to return to his duties.
An Out-Of-This-World Opportunity
After a couple months of job searching, I landed a worthy gig at a medium-sized company called Uline. There I was doing IT technician work at one of their branch offices. Almost immediately after starting employment, I received an electronic communication from the Peace Corps' careers office. In this letter was an invitation to apply for an opportunity to shadow a government official at NASA for a day.  I had received emails of this nature in the past, but it was usually for White House fellows or other government agencies which didn't particularly pique my interest. I would later find out that this was NASA's first time participating in the job shadow program. Little did I know my brief but passionate application letter would have far-reaching career implications.
After a couple weeks went by, I received another email on November 9th indicating that I had been selected to participate in the job shadow. This news was received with much elation. The excitement increased ten-fold as more details came about regarding the activities and who it was I'd be shadowing. It was revealed that the gentleman's name was Dennis Vander Tuig, the current Chief Information Officer (CIO) of NASA's Goddard Space Flight Center (GSFC). Without hesitation, I began a Google-quest to find out more about this NASA sponsor. I found a directory of with the names of every volunteer that had served in the Peace Crops from 1961-2011. His name came up on that list and stated his time in PC was spent in Micronesia from 1974-1976.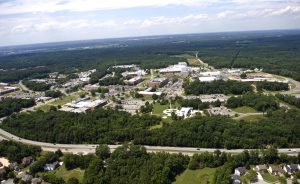 At this point I could hardly contain my anticipation. Lists of my interests, held since I was a kid, ran through my head. I could not wait to have an opportunity to discuss things like NASA, space technology, Peace Corps, and civil service with a high ranking NASA representative. Then an email from Dennis himself came in, indicating that he is reserving 2 days for the job shadow instead of one. He stated he did this since I'd be flying in from Chicago, we might as well make it 2 days. Now, for me, even 10 minutes would have made it worthwhile, but to learn that it would be a solid 16 hours within a NASA campus was absolutely exhilarating. The given dates for the shadow were December 8th and 9th, 2015.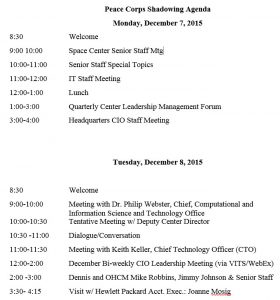 I immediately booked my flights and hotel reservation while drawing a large red circle around the dates on my calendar. In the interim, I was in contact with a friendly HR specialist who sent me the agenda. Items included were: a senior staff meeting with the chiefs of each directorate, a meeting with Chief Technology Officer Keith Keller, and a meeting & demonstration with Dr. Phil Webster, who is Chief of the Computational & Information Sciences & Technology.
After flying in the day prior, on the morning of December 8th I took an Uber from the hotel to the space center's front gate. The HR specialist was waiting for me and after we went through security, I was escorted to Dennis' office in Building 8. I would later come to learn that Building 8 is where all the directorate chiefs work (15 in total). After a friendly meet and greet, we didn't waste any time diving right into the tour. Dennis took me upstairs to the Management Conference Center on the 3rd floor. I brought a small notebook to take notes for the duration of the shadow. I wanted to remember every single detail! Upon walking in, I was amazed at the beautiful galaxy, earth, and star photos that lined the walls. Directors sat at the round-table for this monthly meeting which allows each office of operations to give a progress report. It was glorious; they began with a briefing on the latest ISS resupply mission and how it was a resounding success. Then the meeting took a more cautious overtone as security was discussed in light of the recent terrorist incident in San Bernardino, California. Perhaps the most interesting meeting minute came halfway through, as they discussed plans for an upcoming mission to Saturn's moon, Enceladus. The Cassini Probe first observed water vapor being ejected from geysers on the surface last decade. There was an impassioned plea to NASA's HQ directors to allow GSFC to be granted this project.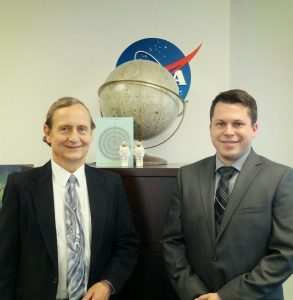 The rest of the day was spent at various meetings with topics that included IT Staff updates, Center Leadership Management, and a HQ CIO Staff meeting which included each center's CIO in a teleconference. Whenever there was time in between meetings, Dennis would show me various parts of the space center and explain the historical or current significance that they represent. He is very knowledgeable in this realm which made the shadowing experience that much better.
The second day began with a meeting with the chief of GSFC's Computation and Information Science office, Dr. Phil Webster. He overseas operation of the NASA Center for Climate Simulation which houses a massive supercomputer- the largest dedicated to this purpose.  It boasts an integrated set of supercomputing, visualization, and data interaction technologies that enhance NASA's capabilities in weather and climate prediction research. I was given a demonstration of these featured on the "hyperwall". Dr. Webster was quick to point out that the simulations being shown were referred to as "visualizations" and not "animations". This is because animation implies there may have been some artistic interpretation of the data, when in reality the simulations being shown were using real data from 14 Earth-observing satellites in conjunction with weather stations and data from all around the world.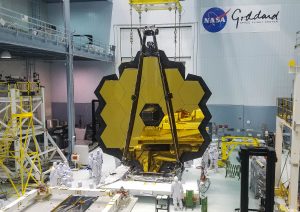 After a brief lunch, Dennis took me over to Building 29 – in my opinion the most fascinating of all buildings on campus. Despite the lackluster name, Building 29 houses the world's largest "clean room". A clean room is an environment free from dust and other contaminants, used chiefly for the integration of electronic components. It is here that the $8.9 billion and long awaited next generation successor to the Hubble Space Telescope is being built: the James Webb Space Telescope (JWST). The JWST project was started back in 1996 and I had been keeping up with the progress over the years. This telescope will provide our deepest look into the visible Universe; up until the point of the first star and galaxy formation some 400,000 years after the Big Bang. Attached to Building 29 is Building 7, which houses many other important instruments such as thermal vacuum chambers and space environment simulators. It was a spectacular behind-the-scenes look into the incredible amount of science and engineering that goes into our space program. Have a look at some of the pictures:
NASA Goddard Space Flight Center Visit – December 7th & 8th, 2015
Little did I know at the time, but this job shadow experience would prove to be life-changing. After building a positive rapport with Dennis, he indicated a possibility of coming to work for him in the coming year. Only a few short months later I was offered a job within the Information Technology and Communications Directorate as a project manager.  To be able to work at NASA can be described as nothing short of a dream job. I never thought it could be possible. There was certainly a bit of luck involved. However, I firmly believe that in order to get lucky, you must first put yourself in a position for that to occur. Peace Corps ultimately proved to be that path.
Final Thoughts
Back in the very first post of this blog, I presented a question that was asked quite often in the weeks leading up to my departure: "what made you want to join the Peace Corps?" I wasn't able to give concise answer back then and still cannot produce one today. One thing is for sure, I have absolutely no regrets for embarking on what proved to be a rewarding journey where many new lifetime friendships were formed. The Peace Corps provided a worldly perspective in my mid-20s that was otherwise unattainable given my economic status. I was able to deeply integrate into a traditional culture; to learn their language, history, and customs. I was able to utilize the education I was fortunate enough to receive growing up and share that knowledge with those who desired it. Through the various projects and daily interactions, there was a consistent and undeniable mutual benefit for the Basotho and myself.
I sincerely want to thank everyone that followed me along this journey. Your viewership, comments, and encouragement provided the motivation to populate and maintain this blog with information regarding not only my service, but more importantly an anthropological perspective of the Basotho culture. I put forth my best efforts to describe the Basotho culture in an impartial manner and I hope you all have enjoyed the content and media therein. Upon launching this blog I never thought it would have grown into something of this size. My next project will be to clean it up and have it self-published on Amazon. This will be a slow and arduous process since each post needs to be meticulously proofread. If you are interested in a copy once it is published or would like to help me whip it into publishable shape, let me know in the comments!
Beyond that, I intend to continue blogging with a shifted focus towards NASA activities and other science-related content. It will remain a politics-free zone, I promise!
Thanks again for reading. Be safe and tsamaea ka khotso (go in peace)!