Salutations to my family, friends, and subscribers,
This post marks Chapter 25! Looking back through the previous entries invokes all sorts of memories and emotions. It's hard to believe there will only be 4 chapters left after the current. Lesotho Group 84 (Healthy Youth '15) landed this month and will be replacing the one (L80, HY '13) I arrived with. I had the pleasure of preparing their Kindles that they will be using throughout pre-service training and henceforth. The Basotho have been quick to adapt renewable energy and are poised to take full advantage of it now and in the future.
Conclusion of the Kindle Project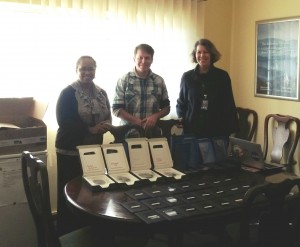 2 years ago when I arrived, the Director of Programming and Training at the time approached me about assisting to help design and launch a new pilot program that Peace Corps was implementing to reduce paper consumption. I was enthralled at the idea and concept and accepted without hesitation. One of my biggest apprehensions before service was not being able to adequately utilize my technical skills. However, this fear was quickly alleviated once the scope of the project was revealed.
I had never attempted anything like this before. Digital conversion to ebook format wasn't as straight forward as one might assume (I know I did!). Fortunately, Google as always proved to be an invaluable resource as I worked alongside a fellow volunteer and a Mosotho staff member to complete the first round. Sustainability was always the center-focus since this recurring project would be continue beyond my service. I produced a handful of how-to documents with step-by-step procedures to ensure a proper reference repository was always available for whoever may continue after I leave. Just in case anyone stumbles upon this page looking for such tutorials, here they are:
– How-to: Create an ebook from a document using Sigil (PDF)
– How-to: Create a new library in Calibre and import a previous (PDF)
– How-to: Replace an ebook with an updated version in Calibre (PDF)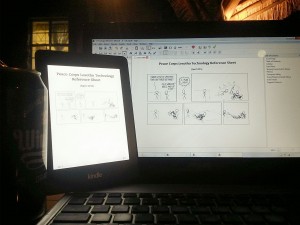 Since I was in Maseru to finalize the Kindles, Peace Corps staff asked me to be one of the greeters at the airport to assist in welcoming the trainees into the country and program. Having participated last year (and at one point been the subject), it was great to see their fresh faces as they landed and took it all in up until the point they met their host families. Their reaction of bewilderment and awe is priceless as I remembered the same exact feelings. Overall they are a wonderful group of eager volunteers and I believe they will lead a successful service; some picking up right where we left off as they replace us at our sites.
Renewable Energy                                            
Wired electricity is still an emerging utility in the country and the majority of Basotho still live without it for a few different reasons. First, the mountainous terrain makes expansion a costly challenge for the nationalized electric company. Second, Lesotho imports over 90% of its electricity from South Africa making rates subject to tariffs. And finally, with an average daily household income of just over $3, it is not economically viable for much of the population. Because of the aforementioned reasons, utilization of renewable energy sources has skyrocketed across the nation.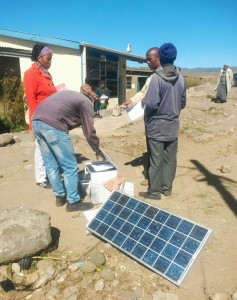 The most widespread adoption has come in the form of solar panels as prices continue to fall dramatically. The various dams which are part of the Highlands Water Project produced hydroelectric power to the local villages. And Lesotho's first wind farm has already broke ground in the district of Mokhotlong and should be at maximum output by later next year.
Personally I think this bears great significance to the future of the country. I believe you'll eventually find developing African nations the first to adopt solar power on a widespread scale.  The technology is vastly cheaper than it was even 3 years ago. They pay for themselves with cost savings in a relatively short period of time. I know my first house will be outfitted a modest setup. I encourage all my readers to look into the benefits of renewable solar energy. Much like my counterparts here in Lesotho, I think you will find it to be very cost effective!
Kindly enjoy this video I've been meaning to upload for quite some time now. These kids will be sure to put a smile on your faces! 🙂


Thank you for reading this milestone entry. May looks to be a treat as I come together with my group for our Close of Service (COS) conference. I will also be launching the long anticipated "Movie Night at Matheko" project sponsored by the St. Mary of Vernon Mens Club. Stay tuned to hear all about these exciting events!