Lumelang bo_'m'e le bo_n'tate, ho joang?
Hello mothers and fathers, what's up?
The weather is finally warming up and spring has finally arrived. Soon enough the mountains will be turning green and I can't wait to observe the natural beauty that is to come. The past month has marked the true beginning of my service. Foundations are being laid that will lead to success in the following 22 months. I've been able to keep up with my professional skills by working on a bold new paperless initiative being implemented by the Peace Corps. Integration has been smooth; I've made many Basotho friends and also experienced an entertaining national event- the annual Horse Races sponsored by King Letsie III.
Matheko Youth Center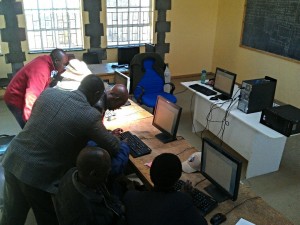 My first 4 weeks here at Matheko Youth Center in Thaba-Tseka have been interesting to say the least. Upon arriving I attended daily morning meetings with the staff. Although there wasn't much to be done as there are no students at this time, I believe it was crucial in beginning the initial integration process. I spoke with my counterpart, 'M'e Malerato about possible activities I could begin despite the absence of the students. We both agreed that this would be a good opportunity to begin training the staff with the limited PCs the school owns. One of the challenges of this is that the main office ran out of electricity units. Fortunately the classrooms have electricity at the moment, so I moved all the PCs there. I then fixed one up of them and loaded it with software conducive to education. Training has been great as the staff have shown great initiative. Some of them have never touched a computer before, but their patience and willingness to learn has been unwavering. Thus far we've covered PC basics (such as powering on/off, how to use a mouse, ect.) and Microsoft Word. I'm also developing a curriculum and see this as a crucial step in creating a sustainable program to follow after my service has completed. At the moment the staff does not have basic computer training or skills. So in order for them to be able to adequately teach learners, I believe they need to have a certain competency in order to answer any questions the students might present.
On the other end on my project, I am very excited to work with my supervisor, 'M'e Lineo in regards our outreach activities for the Ministry of Gender, Youth, Sports, and Recreation. So far I can see she is hard at work preparing various activities for our next events. She introduced me to Abuti Ntsane Letooane who is a young man that founded an organization called "Supernova Exigency". I had a meeting with him and formed a partnership to assist with the various outreach programs he does at the local high schools. The basic premise is a weeklong seminar in which the youth at the respective high schools are trained as leaders. His goal is to further his organizations reach to all of Thaba-Tseka and eventually Lesotho. The only challenge at the moment is transportation. So since 'M'e Lineo has transportation provided by the government, I networked the two organizations together so eventually we'll be able to combine resources to achieve both our goals in conjunction with each other.
Kindle Project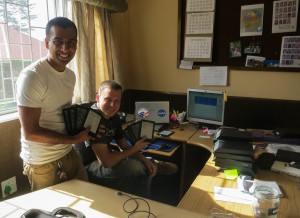 During our first few weeks of training I was approached by Peace Corps Lesotho's DPT (Director of Programming and Training) about an exciting new green initiative being implemented by a few countries that began last year. As you can imagine, the training program for each country involves much documentation being handed out to trainees over the course of the 10 week program. This ranges from safety & security to important country information to specific program materials. I would estimate that each trainee is given at least 1,000 pages of printed out activities, documentation, and books. In an effort to reduce this consumption of paper and ink, the Peace Corps set out to replace all paper documentation by providing each trainee a basic Amazon Kindle loaded with all the respective materials in e-reader format. The DPT informed me of this project and inquired on whether I would be willing to assist in making this a reality. I accepted without hesitation. So for the past 4 weeks another tech savvy colleague and I have been converting every single document available to be compatible with the Kindle. This has been quite an effort as some of the books are 500+ pages and contain pictures. Using the likes of Sigil and Calibre, we finally completed the project for the next group of volunteers. Needless to say, I do consider them quite lucky to be presented with a brand-new Kindle upon arriving in country. Below I have linked a cookbook made by previous and current volunteers. It contains some fantastic recipes.
Peace Corps Lesotho Volunteer Cookbook: .pdf (all e-readers/browsers) | .mobi (Kindle) | .epub (most e-readers)
King Letsie III Horse Races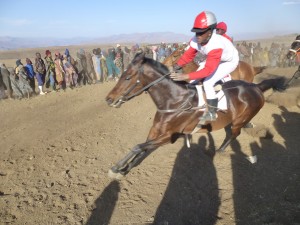 Every year there is an annual day of horse races held to honor King Letsie III's birthday. The races are coupled with a grand ceremony. It was a spectacular event and a cultural experience in which I'll never forget. There had to be at least 3,000 spectators present. The King offers an award of R40,000 ($4,000) to the winner of the event. In addition, R30,000 ($3,000) was donated to youth ministries by His Majesty. While I'm not sure of the exact distance of the track, I would estimate it was about 2 or 3 miles. The highlight of the event for me was getting to meet the King himself, if only briefly. I shook his hand and exchanged a greeting. "Khotso Morena" ('Hello Chief') was all I could think to say, but it certainly sufficed. It was a sensational day that I won't soon forget. Below is a video of the opening race:


I'm comfortable sticking to this monthly comprehensive post schedule. I figure with this cadence, at the end of service I'll have a 29 chapter memoir to archive. The next month appears promising. I'll begin teaching a computers course at Thaba-Tseka High School and also participate in a technology training day for the incoming group of education volunteers.
Sala hantle makhotsi oa ka! GO BEARS!
Stay well my friends!