As my completion of service quickly approaches, the reality of wrapping up projects denotes a shift in focus toward ultimate practicality and sustainability. I'm proud to have finally launched a project funded by the Mens Club at St. Mary of Vernon that has been in the works for a few months now. I also received an invitation to present Peace Corps at a meeting at the Rotary Club of George, South Africa.
Matheko on the Move
Back in October of last year, I first wrote about receiving a grant from the Mens Club of St. Mary of Vernon. They generously answered the request as I began a new initiative to add an HIV prevention-education project to my list of service activities. One of the primary goals listed under the framework which I'm enlisted to is to have a strong focus on HIV education. As mentioned many times in this blog, the disease effects 1 out of every 4 Basotho and stands as the most detrimental influence on society. Half of Peace Corps Volunteers operating in the country fall under this PEPFAR mandate, myself included. However, due to circumstances beyond my control, my site (Matheko) never received its funding from the government ministry. I never got involved in the effort or politics to resolve this issue and instead focused my efforts on economic development; an area I'm better suited to instruct anyway.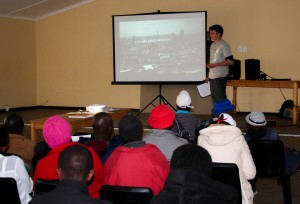 With that said, I still wanted to do something. After attending a screening of the movie Inside Story, it became evident that this was the most effective tool I could employ given the circumstances of my site. This was a side project to stay busy during my downtime from Thaba-Tseka High School which enabled me to take time to arrange the essentials. Specific equipment was required to screen such a movie to a large audience. To make this successful, the project necessitated a projector and screen, speakers, popcorn, juice concentrate, cups, and cooking utensils. A lesson plan also needed to be developed. I tried searching the web for discussion topics only to find nothing. Given this movie's popularity within Pan-African countries, it came as a great surprise that such material was lacking. Therefore, I will now post it here in the hopes others will stumble upon it.
Inside Story Lesson Plan: PDF | doc
With the help of TTI, TTHS, and a few fellow volunteers, we set a screening date for May 17th, 2015. I'm happy to report that everything went without a hitch! I led the intermittent discussions alongside my counterpart and a fellow volunteers. The Bo_'M'e Matheko staff helped in the kitchen. Bo_Ntate assisted with the physical labor of setting up the room to prepare for the movie. Overall we had over 75 youth attend the free screening and made the food costs back by selling popcorn and refreshments- just as planned. The hope is to do 1 screening a month and given the relative ease of the project, it looks to be sustainable for the immediate future. Have a look at a few photos from that day:
– – http://imgur.com/a/SydfU
Rotary Club Presentation – George, SA
The World Wide Web is the single most important tool mankind has ever created. This network doesn't recognize political boundaries and connects billions of people across the globe. One doesn't need a passport to have a chat with someone in Japan, share a photo with someone in Serbia, or play chess against someone in Peru. I have been able to stay connected due to the massive proliferation of cheap mobile internet devices across developing nations. So many PCVs before me would have to wait weeks for their correspondences to arrive, if at all. I realize I'm lucky in this regard. However, what's more telling is the potential it brings to cultures like the Basotho. More on this in my next post.
Since nighttime usually brings downtime, I downloaded and began to play a popular game called Clash of Clans starting in November of last year. It didn't take long before it lived up to the hype. I joined a South Africa clan and quickly made friends with a couple guys in the clan chat. We've been talking quite a bit over the past seven months and one of them (in line with the anonymous nature of this blog, I'll refer to him by his game handle: Wing Commander) showed great interest in the Peace Corps. He related it to his work for his local Rotary International chapter in a town called George, SA. He floated the idea of giving a presentation to his group at one of their weekly meetings. After mulling over the logistics, I realized this was a fantastic opportunity to visit the southern coast of Africa and be welcomed as an honored guest- allowing for a personal experience into Afrikaner culture as opposed to just a passing tourist.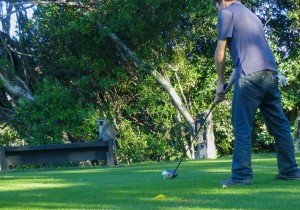 Another friend & volunteer traveled along and we arrived to the stunning sunrise over Waboomskraal Valley. Wing Commander then greeted us at the bus stop and the trip was underway. We first took a visit to Herold's Bay over a picnic of a delectable local delicacy: fish and chips. This bay was gorgeous- enough so that Ernie Els and his parents own a pair of houses on the beach. Under WC's recommendation, I played 18 holes at my new favorite South African golf course, George Golf Club. It was visually remarkable as Afrikaners know how to appreciate the historic game. The meeting took place at 7pm later that night and the other volunteer and I gave our presentation as honored guest speakers. The reception was wonderful and it was a true pleasure to meet folks working for a great cause in their community. The following day we drove to the border town of Wilderness and observed the tropical flora which is unique to the region. This provided the most scenic views of the entire trip as we stopped at Leentjiesklip Beach and then the Dolphin Point lookout.
The time spent with WC and his family was too short and I hope to return in the near future. Everything described above is featured in this album:
– – http://imgur.com/a/zI1KG
Trip to Port Elizabeth, Uitenhage, and Steytlerville, SA
The timing for the Rotary presentation couldn't have worked out better. Speaking with another member of the clan (Gullinor), he informed me that he'd visiting his hometown of Steytlerville to celebrate his mother's 70th birthday, parent's 50th anniversary, and his sister's 40th birthday. The dates all lined up harmoniously and the celebration was appropriately planned to an unimaginable level of extravagance. To even be invited to such an affair was an incredible honor.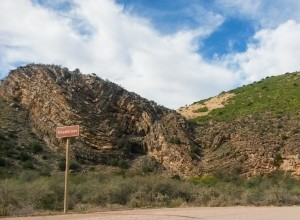 The family's history is worth summarizing as I found it thoroughly fascinating. Gullinor is a 12th generation Afrikaner, his Dutch and English family originally settling on some open farmland in the 1600s. Through the generations this operated as a family farm until an oppressing drought hit the area in 1986, prompting his mother to start a quilting business. This business quickly bloomed into a successful enterprise with a focus on goose down quilts and apparel. They still own and operate the farm, but it is no longer a family venture. His father is a scholar and earned his degree at Cornell University (and even attended lectures by my hero Carl Sagan!). One of the days he took us around town and described the historical landmarks of Uitenhage which was fascinating. Gullinor's grandfather is considered one of the best Rugby players of all time and is well known in the realm of international rugby fandom.
The stay on the farm in Steytlerville was an amazing and memorable experience. We were welcomed as honored guests and were treated as such throughout. There was quite a bit to do on this 19,000 acre estate. Riding around in ATVs was probably my favorite activity. The house was built with heavy Victorian influence and still emanates that historical charm. Dinners consisted of freshly caught Snoek, Ostrich burgers, and rotisserie Lamb/Pig for the main celebration. After living on a very modest diet on the mountains of Lesotho, words simply cannot describe how heavenly each meal was. The entire experience was marvelous in every regard.
Below you'll find an album of pictures from Port Elizabeth, Uitenhage, and most of all- the farm in Steytlerville:
– – http://imgur.com/a/zeIjH
Of the 23 months served so far, May 2015 was hands down the best period during this experience. Finally getting to work with my host organization was a fitting closure to a service that is winding down. Delving into true Afrikaaner culture on family level was an unforgettable experience. It's one thing to visit unknown areas as a tourist, but to be welcomed into the family in a literal sense is something I will be forever appreciative of. My only hope is to be able to pay it forward if either WC or Gullinor's family visit Chicago- which is definitely a possibility!
Thanks as always for reading. Baie Lekker!