Ke thabile ho khutile toropong le lapang ea ka,
Often times I reflect upon the where and what service was for me in the immediate year prior. I remember October of last year quite vividly. I had just been introduced to principal and fellow colleagues at Thaba Tseka High School. My Sesotho comprehension was proving to be a key ingredient for deep integration into the village of Thaba Tseka, and I was well on the way to laying the foundation of everything else that was to come. Fast forward one year. Save for a brief interruption due to security concerns and now I couldn't be more satisfied with how everything has panned out.
HIV Project
HIV education has been an objective that has eluded my service so far. Not really sure how to approach a health subject such as this, I began to look at the vast amount of resources available to volunteers through Peace Corps, PEPFAR, and UNICEF. They seemed well and good, but none really fit into the style of teaching I've become accustomed to in this culture. Development work is already hard enough… teaching about private matters to children in a respectful and sympathetic manner demonstrated to be an entirely new challenge.
One thing that seems to be common for children and young adults across the world is their love for media entertainment. This is way when I came across the movie Inside Story, I became instantly intrigued. A most exciting method of education is to intertwine health knowledge within a well-produced movie plot. This particular movie is about a rising football star who's risky sexual behavior leads to the contraction of HIV and nearly costs him is career. He's able to overcome the challenge through various realizations and support, and this is the exact message we are trying to get across to the youth here in Lesotho. What a perfect formula. Relatable and entertaining content with subtle, yet effective, life skills education embedded within.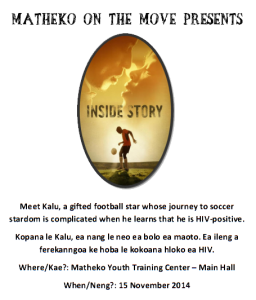 One of the available resources available at my nearly abandoned and defunded site (Matheko) is a very large auditorium. The idea is to show monthly screenings of educational movies, starting with the aforementioned flick Inside Story. The high school owns a projector and screen, so that's covered. The venue has plastic chairs so that's sorted as well. The only thing needed would be loud speakers. With the local affinity for dance music that shouldn't be a challenge at all. Getting youth to show up will be simple as well. Advertising at the school of 700 will surely bring them in. And to ensure attendance, I plan to offer refreshments in the line of popcorn and juice from concentrate. Each session is expected to cost about $50. A development project is only successful if it can be sustainable, so after establishing the ebb and flow of the screenings, a small $1 entrance fee for people 12+ years would allow for cyclic screenings.
Thanks to a wonderfully generous donation from my brothers in the St. Mary of Vernon Mens Club, this project is fully in the works and just about ready for action. I'd like to offer my most sincere thanks to them for their continued philanthropy. With the students out for Summer/Christmas holiday, the first showing will come January after they return. Needless to say, my colleagues and I are very excited for this opportunity at a new approach to life skills education!
LDF Jazz Band Concert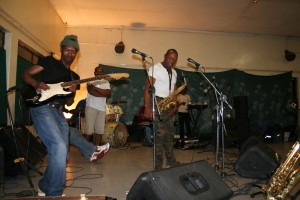 The Lesotho Defence Force jazz band made played their annual show in Thaba Tseka on October 26th. Last year's event was a blast filled with different styles of local live music, the featured LDF Jazz Band, and lots of dancing. This year's show lived up to last year's precedent. Ballroom dancing, Famu (genre) music, jazz, and refreshments were the highlights. During my time here I've embraced the local dance. It's fun seizure-esque style groove that involves a lot of shoulder-jerking. Getting up in front of the crowd is always a delight… and spectacle. The Basotho are shocked to see a foreigner knowing the precise moves of what I call the Shepard Groove (jiva joa loka molisana). The Jazz band even let me get on the drums for a minute to jam alongside them. Overall it was another memorable night here in the Mountain Kingdom.
Here's a short video compilation of the various acts:
– – https://www.youtube.com/watch?v=RnO8_aUQnOk

I'm sad to announce retirement from ever performing the worm again. It's been my go-to dance move since 8th grade but busting it out recently has become increasing painful. It was a good run and I'm delighted the final act was in front of 100 enamored Basotho.
Until next time, salang hantle!