Happy Halloween from Lesotho!
The past month has proven to be quite productive during my stay as a volunteer in Thaba-Tseka. I successfully secured a secondary project teaching a computer class at the town's high school. I've also focused heavily on integrating within the community and as a result have made some great friends.
Around Town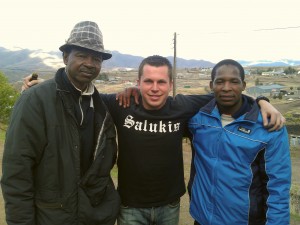 The camptown of Thaba-Tseka isn't quite as big as the others in the country. However, there is still plenty to do and see. I'm waiting for the weather to finally stay consistently warm to begin hiking around the beautiful mountainside here. It has always been important to me to find a nice balance between work and leisure so I was delighted to find out there are a few bars here with pool tables. 8-ball, known as snooker here, is quite prominent throughout the country. The rules vary slightly and the balls are much smaller than what I'm accustomed to in the states. Regardless, it's still fun to play and some of the Basotho here are extremely good.
I was heading up to the local hotel for some lunch with a few volunteers a couple weeks ago when I came across a shepherd who was playing a homemade instrument. It appeared to be made of a plastic hose attached to a gas canister with a metal string. He also had metal bow which he slid up and down to produce a unique sound to which he sang along with. I found it to be absolutely fascinating. Check out the short video I took below:


Teaching at Thaba-Tseka High School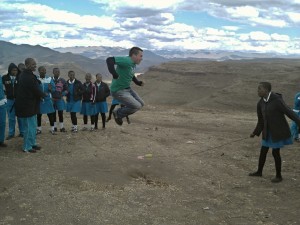 One of the volunteers here in Thaba-Tseka is about to COS (Completion of Service) and has taught at the local high school for the past 2 years. He's done a great job with participating in all aspects of the school and has built quite a reputation there. He started with teaching math and since become a faculty advisor overseeing the school's operation under the principal. Last year the school was awarded a grant in which they used to purchase an entire lab of 17 brand new computers. Because of the resounding success the school displayed during the volunteer's tenure, the Peace Corps did not see the need for another volunteer to replace him. However, he was worried about the sustainability of his work there. He approached me about a month ago about the prospect of teaching a computer class.
I had to meet with the principal and then the Ministry of Education prior starting at the high school. Both of those meetings went smoothly and I was approved to officially be an instructor. My first thought was "that was easy". Having a degree coupled with the intent to teach was all they needed to know and just like that I was in. Since I've never taught a class before we thought it would be best to start with one class per week until the next term begins after summer break in January.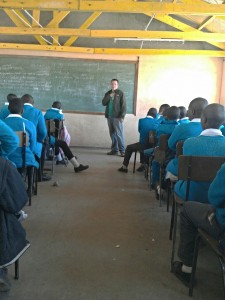 The education system in Lesotho is similar to America's. Grades 1-7 are considered public and are funded by the government. High school (grades 8-12) is considered secondary school and is tuition based. However, the fee is typically R200-R500 ($20-$50) per year. Even still, sometimes this is a burden for some families. A student must pass a competency exam before entering secondary school. Instead of being referred to grades 8-12, they are called Form A-E.
I began teaching a Form A class 3 weeks ago and so far it has been great. The Lesotho government has a standard curriculum for computer competency that I make my lesson plans around. It basically involves knowing the basics of how a computer operates, keyboard/typing proficiency, and a strong emphasis on knowledge about data entry. The curriculum was published in 2005 so I've been tweaking it a bit to reflect on the modern advancements in mobile technology.
I stress the importance of having basic computer understanding to the learners. It's clear they possess a willingness to gain knowledge about the subject which in turn makes my job easier.
Next month will hold the beginning of Phase III. Training was Phase I, initial site integration is Phase II, and the next phase is the true beginning of service. Although the structure is rather loose, things should start picking up in terms of finding new resources for outreach projects are the remote areas of the Thaba Tseka district. Thanks for reading!