Lumelang lelapa le bakhotsi!
Hello family and friends!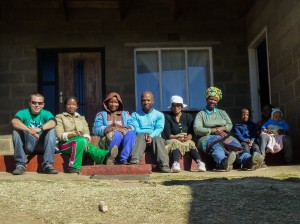 I am pleased to be writing you all from the comforts of my host family's compound in Ha Tšitso, Berea, Lesotho. The 2013 Lesotho Healthy Youth group of volunteers consists of 19 people from all over the United States. We all met in staging in Philadelphia before departing on a 15 hour flight from JFK airport to Johannesburg. After landing we immediately boarded a charter plane to the capital city of Maseru, Lesotho. From there we were greeted at the airport by the wonderful Peace Corps staff that consists of Americans, HCNs (Host Country Nationals), and current volunteers. It was here that we were assigned to our training groups. There are three total. Each group lives in a separate village and that are all in relative close proximity.
As we were pulling into Ha Tšitso (my training village), the driver began honking the horn repeatedly which alerted all the residents to our arrival. We were then greeted by dozens of ecstatic women and children. Our host families were then announced which prompted cheers and traditional dances from all bo_'m'e (mothers). I was selected to live with the Chief of Ha Tšitso, 'M'e Matato Moreneng. More on this in my next post.
The past 3 weeks have been jam-packed with a vigorous schedule consisting of language and cultural training. In this post I will attempt to briefly elaborate on these.
Daily Routine
The Peace Corps has a robust system in place for trainees that has been constantly evolving over the past 52 years. The training process is uniform throughout the host countries but contains unique aspects for each respective program. My day begins around 5:30am. Alarm clocks are not necessary here thanks to the roosters. I would describe them as a symphonic medley of drunken yodelers. They don't follow the rules either since they like to begin the song of their people around 3am. The donkey that resides outside of my room has proven to be an effective snooze alarm.  Since it's winter, my room is about 40 degrees (F) when I wake up; so after thawing out I hit up the bucket bath and then head to the kitchen for a breakfast that usually consists of Corn Flakes with warm long-life milk, porridge, and instant coffee. Then it's off to language training for 2 hours with a LCF (Language Co-Facilitator). I am fortunate to have 'M'e Malineo as my LCF. She has been working for Peace Corps Lesotho since the first group arrived in 1967. An all-around incredible person, words cannot adequately describe her enthusiasm for teaching us Sesotho and the ways of the Basotho. After language, we head to a central location to receive training on other topics pertaining to service with the rest of the volunteers. This consists of primarily of cultural and safety training and usually lasts until about 4pm. From there we either walk or are bused back to Ha Tšitso where I meet with my host family and usually help with some of the daily tasks such as fetching water or chopping wood for the stove. If there are no tasks to be done, I usually play soccer with the kids (video below). The sun goes down around 5:45pm and dinner is at 6:30pm. I'm usually in bed by 8pm.


Language
Here in Lesotho (country), the Basotho (culture) speak Sesotho (language). It's fun to say that aloud. I should add that an individual citizen is called a Mosotho.   I admit to having had a misconception in thinking that English would be more predominately spoken throughout the county. This is certainly not the case. Fortunately the language is not very difficult in my early estimation. After learning the proper pronunciation of Lesotho (le-su-too), I thought the words weren't going to be phonetic at all. It turns out that a good majority of words are indeed phonetic and share many commonalities with Latin based languages. Moreover, while the sentence structure can be confusing at times, the language doesn't have the crazy and sometimes illogical rules that English carries. Once learning the basics with regards to annunciation of grouped vowels and consonants, breaking down each word by syllable has proven to be a highly effective method of learning.
Culture
Every waking minute has served as a unique cultural experience here in Lesotho. The Basotho are a very welcoming and friendly culture. Social interaction is a key component of integration. The community aspect of the village has been the most interesting.  When passing someone it is customary to always say hello. Everyone is addressed as either 'M'e (mother), N'tate (father), Ausi (sister), or Abuti (brother), regardless of actual relation. However, this isn't just a sign of politeness. It is an indication of the relationship each member of the community has with one another. They are all truly brothers and sisters. A good example of this occurred last week. The nearest police station is about 30 minutes away, so in a village like mine the neighbors always look out for one another. There was a domestic disturbance at one of the households and within minutes there were at least 15 people converging on the residence to assist in bringing the altercation to an end. The offender was then brought before the chief at my house where he was reprimanded and given words of wisdom by the village elders. This lasted for about 2 hours and peace was restored.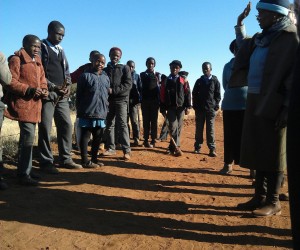 I've tried my best to not only engage with the villagers, but also to participate in meaningful daily activities to get a true sense of what it is like to live and survive here. Gender roles are evident, however, they've had no problem with me attempting to perform the tasks that generally fall upon the women; such as fetching water, cooking, doing dishes, and cleaning the house/compound.  The men are traditionally the breadwinners, with many either heading to town each day or working shifts in the mines. Some men and boys herd the livestock. It's very low pay and consists of literally standing in a field from dusk till dawn while the cattle graze. This is not an ideal position for them and they are aware of this. However, this type of work must be done and sometimes circumstances require certain members of a family to tend to livestock instead of going to school. Most of the children attend school and return around 4pm to complete chores. The very young children stay with the mother during the day and help in whatever capacity they can provide. Each person within a family has an important role to ensure the daily survival of the livestock, crops, and themselves as a whole. There is no room for laziness and this culture prides themselves on continuing this traditional and proven lifestyle.
In my next post I will also touch on some specific training we have received in preparation for our roles as Healthy Youth advisors. Thanks for reading!