Lakaletsa Keresemese e monate le mahlohonolo a selemo se secha!
(Merry Christmas and Happy New Year)
With 2014 officially in the books I can safely say it's been a uniquely fantastic year. I approach 2015 with cautious optimism as I work to wrap up my open projects and make the most of my time left here. July will be my final month of service before heading back to the States. The final month of 2014 was a relaxing one. Summer break for the schools meant a lot more leisure time to travel around with my DSLR to capture the nature beauty of this area of the world. Soccer continued unabated and I was able to celebrate Christmas with my 2nd family at Ha Mathaba.
Public Service Games
The national football league takes a 2 month break for the holiday season. During this time most people travel to their home of origin to be with their extended families and clans. The civil workers take this opportunity to host a variety of sporting  tournaments under the moniker of the "Public Service Games". I was invited to play goalkeeper for the Matichere (teachers) and of course accepted the offer without hesitation. The first game(and semi-final) was played on December 4th against the corrections officers. I didn't realize beforehand how popular these games were. For league games there's usually 50-100 spectators in the stands, but for this game there had to be at least 500 in attendance.
The first half was a battle in the midfield and I didn't see much action. We scored within the first minute of the 2nd half and from here I was confident of our chances.
At the 70' it seemed our guys began to tire. The oppositions attack was growing more frequent and our guys were struggling to come up with an answer. It came to a boil when one of our defenders committed a foul in the box with about 10 minutes remaining. Penalty kicks are something I have little experience in as they are not common in indoor soccer. But through excessive FIFA gaming I was able to employ a basic strategy. The player lined up for his shot. I correctly guessed his direction and location, but unfortunately he put it right on the post and I missed it by only a few inches. With the score tied at 1-1 overtime was all but guaranteed. Instead of playing an extra time period of 30 minutes, they instead went right into a penalty kick shootout. The scene was unreal. Almost all 500 spectators formed a half circle around the goal.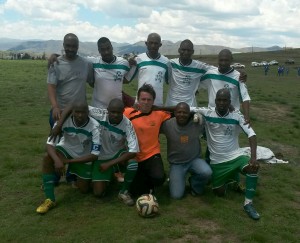 Amidst chants and singing I could tell this was going to be epic. They had first shot so I was thrust right into the spotlight. 1 on 1; striker vs. keeper… with a disproportionally sized goal to defend. The odds are always in favor with the striker in such a situation. I guessed left, he went right. Oops. Thankfully our striker responded in kind, so it was tied 1-1 at this point. As I entered for the 2nd attempt, the chants grew louder and I could tell the crowd was rallying behind the foreigner. My adrenaline was flowing as the striker positioned the ball on the line. I knew he was going to go low-right. "Strong foot across the body," I thought. With that I timed the dive almost to perfection and swatted the ball safely to the right. The crowd erupted. This gave us the clear advantage so long as our strikers were successful with the next two attempts. Once again, the pressure got to our striker and he lifted his shot over the goal. Eish. He was a close friend and colleague so I ran up to him after his miss and offered condolences while also promising to save the next shot for him. I don't like to break promises and with that I correctly guessed low-right, again, and made the fingtertip save. This time some of the fans ran on to the pitch to give high-fives and hugs. It wasn't over yet, we still had to score in our attempt. Alas, we did, and a massive celebration ensued that carried into the wee hours. That win guaranteed us a spot in the final and a chance to win and go on to compete in the national tournament. Moreover, the final was to be played in Katse, arguably the most scenic area in the country.
Fate was against us, however, and we struggled to keep up with the highly touted Police team. They beat us 0-2 in a surprisingly well-matched game. The local radio station broadcasted both games live, and to my surprise I was a major talking point. They referred to me solely as "Kopano the lekhooa" which means "Kopano the white guy". The fact this echoed through the mountain airwaves of this remote part of this world is hilarious to me. Apparently they had nothing but high praise and respect for my keeping efforts.
College Graduation Party
One of my friends and former colleagues at Thaba Tseka High School invited me to attend his sister's graduation ceremony. She recently earned a teaching degree from the University of Lesotho. Per tradition, her family hosted a "mokete", or village party to commemorate her successful efforts. Having been to a similar graduation ceremony during HVV, I accepted the offer with great anticipation for the event.
It would be rather difficult to describe the day's various performances and speeches, so instead I invite you to check out this video compilation I made:
– – http://youtu.be/a3pcKh2BgDs

Christmas at Ha Mathaba
For the second consecutive year I spent Christmas with my closet friend and his family here in Thaba Tseka. I wouldn't have it any other way. I adopted their surname last year when they slaughtered a sheep in a traditional ceremony typically invoked when a new child is born into the clan. The sense of family is strong and Christmas is the culmination of that. Granted it's summer and felt more like 4th of July; the core concept of coming together and celebrating amongst family parallels with the holiday back home. One significant (and refreshing) difference was the lack of commercialism. Basotho enjoy exchanging presents, but it's of their own accord. I didn't see or hear a single advertisement for Christmas.  Being here really exemplifies the vast difference in how the holiday is celebrated in regards to gifts. The very concept of Black Friday is ridiculous when viewing it from the perspective of a Mosotho.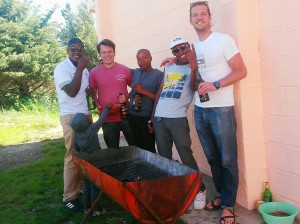 The Mathabas wholeheartedly understand and sympathize with the difficulties of being on the other side of the planet for a holiday like this and as such made an extraordinary effort to make the celebration an inclusive experience. For example, throughout the course of the day they all made an effort to speak only English. Just imagine celebrating a holiday with only speaking your limited 2nd language.  For this I attempted to respond in Sesotho. I think I exhausted every word I knew that day. It's this type mutual respect that has allowed me the deepest of integration within their culture- to the point that skin complexion and foreign ethnicity becomes a nonfactor.
The day began with us driving around trying to find a grill stand. I love to watch Basotho in action when it comes to last second preparations. Seems to happen every time. Yet they always prevail which is equally as captivating. After securing the braai stand we picked up some meat from the butcher and a few quarts from the bar. From there we headed back and began the festivities. It didn't seem right to listen to Christmas music wearing shorts and grilling outside, so I put on my BBQ playlist consisting of CCR, the Boss, Johnny Cougar, and the Grateful Dead. The women stayed in the kitchen to prepare the side dishes (per cultural gender norm) and the men tended to the meat. It was a glorious feast indeed. Then it turned into a dance party to the likes of house music. I was able to briefly Skype the family which was great. Overall it was a memorable Christmas and the last I'll be experiencing in Lesotho for the foreseeable future.
Thanks for reading, as always. May the New Year be prosperous and fulfilling for you all. From Africa, here's to 2015!