Happy Holidays my friends and family,
Milestone post  #20. Only 8 more entries left? Yikes. Summer is here and there's a noticeable energetic vibe emanating from most of the townspeople. Everyone is outside; either tending to their gardens or having leisurely meetings with friends or family. Sports matches are in full swing and I've been having a blast playing in the main attraction: Bolo (soccer). A close friend travelled a great distance to see what the hype was all about. We toured through Lesotho and South Africa, covering a total of 700 miles. Upon returning I celebrated Thanksgiving in a truly grand manner with my fellow Thaba Tseka volunteers.
Bolo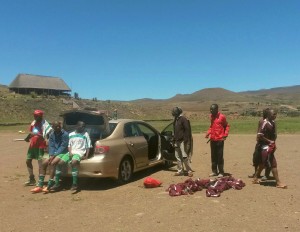 The weekend of the 15th was loaded with matches. The fixtures couldn't extend beyond this date because the league officially enters the transfer window and break is called for the holidays. They follow the same exact format as FIFA leagues wherein the season is broken into two legs; the 2nd resuming in mid-January and going through the end of March. My team, Little Roses FC, current sits in 5th place after a string of draws and loses knocked us down from the Top 3 in November. The gaffer (manager) seems to be confident in our chances of making a run in the 2nd half. The competition is stiff and that certainly won't be an easy task. However, the team along with myself are up to the challenge. Most importantly we're having a good time out there. And I'm in the best shape I've been since high school. Playing at this altitude will undoubtedly be an advantage upon returning stateside.
Durban Holiday
The planning started around March. A close friend looked up the prices for a round trip from Chicago to Johanusburg and was surprised to find the tickets literally half the price he was expecting. I was very excited at the prospect of traveling around the region with a brother who has never been to the area, let alone the continent. And that's exactly what we did. Having been to Durban with the parents and sister a few months back, I was thrilled to hit up the true nightlife of Durban while also spending some time in Lesotho.
We met in Bloemfontein on the 13th and spent two nights there before departing for Thaba Tseka on the 15th. I had a game the following day so not only did he get to experience the epic views from the ascent to TT, but also the mayhem that is football day in Lesotho. Unfortunately Little Roses FC got smoked that day, but that didn't take away from the experience. We left for Durban on the 17th but took the Katse/Maputsoe exit out of Thaba Tseka. This passage is arguably the most beautiful part in the country. Perhaps it's a bit of homerism on my part, but my opinion is not unfounded. Have a look at these stunning views:
– – http://imgur.com/a/brMqr#0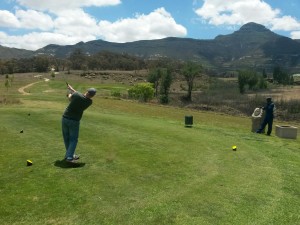 From here we traveled to Clarens for the night. It's a quaint little town with heavy Victorian influence. We really enjoyed it. Before leaving we played a round of golf and had lunch at a German microbrewery which also featured some amazing Boerewors. Then it was off to Durban. Thanks to Airbnb and Uber, we saved a huge chunk of money on lodging and transport. Durban nightlife is like nothing I've ever seen and we had a blast meeting folks from all over the world. The entire trip went down without a hitch and it's safe to say we plan to travel back at some point in the future.
Thanksgiving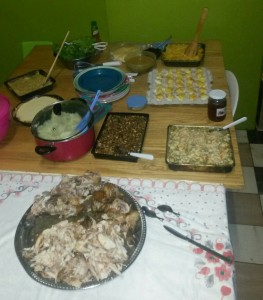 Once again another traditional holiday was celebrated in the presence of fellow American volunteers. It's always interesting since we're all in the same situation. I suppose the best way to find comfort being so far away from family is to make the experience as close to home as possible. With that in mind, a HUGE feast was prepared using the best combination of ingredients we could muster. Unfortunately turkey wasn't available so 2 entire chickens were prepared instead. Then all the proper side dishes were whipped up by a few excellent cooks. Stuffing, mashed potatoes, salads, even a walnut cobbler made the table. This was by far the best meal I've had in Africa. Celebrating with the second family of PCVs was a great time as well. I can only hope Christmas will prove to be the same.
As always, thanks for reading. May you all have warm and joyous holidays with your friends and family. My next post will describe the events of the public service games, and of course, Christmas in Thaba Tseka. Cheers!