Lumelang Bo_'M'e le Bo_N'tate,
The new year keeps rolling on and I can honestly say it seems like the time here is flying. March 7th will mark 9 months in country with 18 months to go. To be a third of the way through service serves as a nice milestone but also a gentle reminder that time is of the essence, especially with project goals and other aspirations on the line.
Unit 1 Tests
With the first unit in the books I was finally able to assess the level of understanding amongst all the grades (8-12). Teaching the same material to five different levels presented some unforeseen challenges. I knew coming in that the Grade 8s (Form A) will have a more difficult time grasping the material as their English isn't nearly as strong as the Grade 12s (Form E). Nevertheless each grade managed to average an A or B as a whole, so I was thoroughly impressed. This entire curriculum is being developed as I go, so it's nice to have some flexibility to be able to adjust as we continue on. Here's the test breakdown by grade: 

And the test itself: Web | PDF
Unit 1 was all about understanding the components of a computer. Unit 2 and beyond is about learning how to use the components. The lab is almost ready for use by the students; 20 brand-new networked virtual computers plus two servers to control them. This is state-of-the-art equipment and I've spent all week stressing that to the students. Most schools in the US don't have such a sophisticated setup so it's important to take full advantage of current year technology.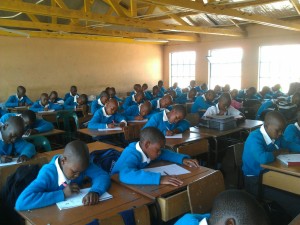 The lab was donated by a Dutch company before I came and ever since has been gathering dust.The Universal Power Supplies failed (probably due to the dust and/or power surges) so this required the school to purchase 20 new power cords from Maseru. Those finally arrived and I feel like we should have the lab open by mid-march. I have an entire unit devoted to learning how to use the mouse and how to properly type using the "home keys" instead of "chicken pecking". As I've stated in my previous posts, this is my only full calendar year in Lesotho (which coincides with the fiscal school year), so I intend to go full force into creating a modern, comprehensive, and sustainable curriculum that sets the bar above standard computer literacy for these students. If even half of them can type 20 words-per-minute and know how to create a résumé, I will consider the program a resounding success. And so far it's looking like that could be a definite possibility.
Project Development
The week of February 17th had us HY 13s traveling to Hlotse, Leribe for a workshop regarding project design and management (PDM). The premise of the weeklong conference was about the various methods to create or bolster sustainable projects in our communities. This includes designing the project, assessing benchmarks, and securing funds. This is critical information for any volunteer that plans on doing side projects based on the community's needs. I was particularly interested as I've already identified a couple projects to pursue here in Thaba Tseka.
The first of these two projects is to hold film screenings at the youth center I currently live at, Matheko. On the final day of the workshop, they had an organization called Sesotho Media come and do a movie showing for us. The film they showed was called "Inside Story", a relatively new movie that combines many elements of education and entertainment. The story is about a gifted football star whose journey to soccer stardom is complicated when he learns that he is HIV-positive. It is a very relatable movie for most of the youth here. We plan to stop the movie every 20-30 minutes for a brief discussion on the plot and the messages being portrayed by the characters. Here is the project description: Web | PDF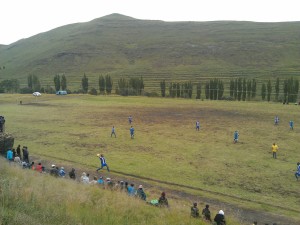 The second project is to help a very close friend of mine grow his modest hair salon business. He is an electrical engineer for the national electricity company but also rents a small building on the strip of the camptown. From there they provide haircuts, shampoos, and sell a small stock of hair care accessories. Currently he operates in the red; however, he's a very motivated individual and wishes to get the business back on track. I think with the assistance from the other PCV here and myself, there is a great potential to for him to build a profitable business. More about these projects in a later post.
Birthday Surprise
The end of the workshop happened to fall on my birthday and we had to return to our sites. This was fine as everyone made sure the previous night was a grand hotel celebration. The journey was about 5 hours from Hlotse to Maseru and then back to Thaba Tseka. Per usual, another volunteer and I tried our hands at finding a hitch on the outskirts of Maseru instead of being crammed into a sweaty taxi for the entire ride. After rejecting a few stoppers based on the quality of their vehicle, we saw a shiny Lexus SUV approaching and began to flash the international hitchhiking sign of pointing at the road. Luckily for us he stopped. After doing the standard greetings in Sesotho, this older gentleman began speaking almost perfect English to our surprise. As we continued to converse about our jobs in Lesotho, where we lived, and our country of origin, I began asking him the same. He started by saying he had been to the United States in the 1970s to train with the military. I became very inquisitive at this point and asked which state he trained in, to which he replied Texas. Fort Bragg! I continued probing and it finally came out that he was a retired Major General for the Lesotho Defense Force. At this point I was in awe of the luck to share a 4 hour ride with such a distinguished individual. He then asked us if we'd like to meet his wife to which we happily obliged. It was a couple hours out of the way but that didn't matter. As we drove along we could see the various infrastructures he had built around his remote town which included schools, foot bridges, and irrigation systems. It was clear he was a genuine man who has dedicated his life to serving the people of his community and country. After having sharing some biscuits and juice with his wife and seeing his impressive farm, we continued on toward the original destination of Thaba Tseka.
We arrived back home around 7pm. I thanked him for the ride and inquired if I could have his name and number in case I'm ever in the area of his hometown. He was pleased to offer it and we went our separate ways. Later that night I decided to Google his name (N'tate Justin Lekhanya) to see if there was any information about him to be found on the web. I was surprised to find a Wikipedia article and upon reading it, I realized not only did we get a hitch from a retired Major General, but also a former Prime Minister and all around badass! Thus making my 26th birthday certainly one to remember.
http://en.wikipedia.org/wiki/Justin_Lekhanya
My next post will be covering the first World Wise Schools pen-pal interaction between students from Maine West High School and Thaba Tseka High School. The package containing the letters hasn't arrived yet but I'm anticipating it this week.
Sala Hantle!