Ay kona, ho polile!
With school out and the students back with their families until August, I've been able to focus my recent efforts on assisting a child prodigy reach his goal of obtaining a higher education. Also the 2nd group of Healthy Youth trainees arrived on the 5th of June.  It's been a pleasure to be apart of their initial integration and training. My group arrived on the 7th of June last year so this month marks the 1 year anniversary of being in country. The true mid-service date is the 12th of August (the day we swore in). I plan to write a comprehensive one year reflection for that post.
Child Prodigy
In late April the school held its annual science fair. The science curriculum is very well designed and covers topics such as geology, astronomy, physics, and so forth. All the subjects taught in American science classrooms are present here. I was invited to attend the fair and accepted without hesitation. Most of the students were very excited for this event- even if they weren't participating. I was initially curious as to what would create such anticipation. Once I arrived it was quite evident.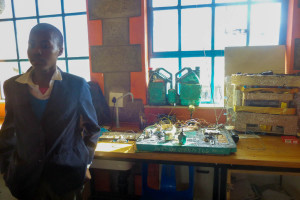 A handful of students used their informal expertise to create conceptual designs on paper and then turned those visions into practical models. The level of ability and detail was mesmerizing. All different kinds prototypes were on display. Most were using some form of electrical current generated by various sources such as car batteries or solar panels. One stood out in particular though. There was a big gathering of students around this boy's project as he began to set it up. Everyone was clamoring for a spot to see it in action. As I approached the students made way so I could get a front row look, but I couldn't figure out what his design was actually supposed to be.
Once it was setup he turned it on. To my surprise I began to hear a radio broadcast from Mexico. He fiddled with some knobs and suddenly it was South Korean. He had successfully built a shortwave radio using components he scavenged around town. I was completely taken aback by the level of intricacy and detail his radio had exhibited. This was a truly remarkable achievement and I was eager to speak with him regarding how he went about creating such a marvel. He is only 17 years old and was displaying technical knowledge on a very high level. This was just further evidence that great minds are born all over the world. It's just that some people are fortunate enough to have the resources to foster their intellectual gifts; while others, like this boy, are forced into a realm of improvisation and creatively… the likes of which I have never seen.
This child prodigy deserves a shot at the big time. I instantly made it a new objective to seek out different avenues for him to expand his education. I made a plan to return the following day with my friend who is an electrical engineer.  The boy could speak English, but only a limited amount so I knew having a counterpart on hand would help facilitate a more meaningful discussion. I also decided to record the interview as it might help to showcase his practical knowledge to a wider audience. The interview was planned out in advance. We were hoping to achieve three basic things: Have him explain the shortwave radio, how he came into the knowledge of designing such a device, and what his personal vision of the future is. As the interview went on, it was apparent he completely understood the theory of shortwave amplitude modulation but didn't quite have the English to adequately explain it. This is where my friend was extremely helpful as he was able to translate.
The video didn't turn out as well as I hoped due to lighting and background noise, so at this point it's only a rough draft. However, we plan to return after break and reshoot his explanation of how the radio functions. Once the video is polished, I will begin contacting organizations and universities that sponsor brilliant minds from developing nations. Getting a full ride to an American or European university would allow him to expand his creativity and give him the resources to realize his dream of becoming a scientist. At the end of the interview I asked him, "Where do you see yourself in 10 years?". He replied, "I want to be in Lesotho, designing more efficient electrical systems to help the country move out of poverty". Truly inspiring. I love the fact that he wants to return to his country even though he could easily find work elsewhere in the world for higher wages (assuming he gets a degree).
Here's a few excerpts from the first interview. I will post the full interview (with subtitles) once it's completed.
– – http://www.youtube.com/watch?v=wG8ssJAqowU

And an album of his project:
If anyone has information on how I could best assist this child into obtaining a university education, please let me know!
New Healthy Youth Trainees Arrive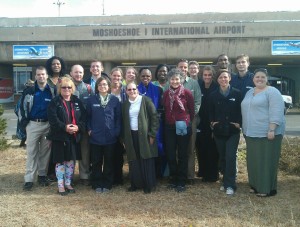 The new group of Healthy Youth trainees landed in country on June 5th. Through some luck I was able to secure a spot as one of the volunteers to welcome them at the airport. This was entertaining because seeing their faces as they completed their 16 hour journey was very reminiscent of how I felt getting off that plane; utterly exhausted and unable to process what was actually going on. It only got better as we rode into their training villages for the welcoming ceremony. After the families announced which trainees would be staying with them, I decided to give a short impromptu speech to demonstrate my Sesotho. They played a critical role in establishing the foundation and really hammered in the basics of the language during the 2 months of training. So by doing this I was attempting to vindicate their efforts and further encourage to have the same approach with the new group.
"Lumelang bo_'M'e le bo_Ntate, le phela joang? Lebitso la ka ke Ntate Karabo Thamae. Ke luile le Morena 'M'e Mathatho Thamae empa hono joale ke lula le sebesta Thaba Tseka. Biathaopi ba bacha ba thabile ho sala le lona. Rea leboha ka ea ho fana"
Which translates to:
"Hello Mothers and Fathers, how are you? My name is Mr. Karabo Thamae. I lived with the chief 'M'e Mathatho Thamae but now I live and work in Thaba Tseka. The new volunteers are happy to stay with you all. We thank you for the generosity."
They loved it. I was quick to shift focus back to the trainees as they had no idea what was going on. Over the next week I was tasked to lead sessions on the technology infrastructure in Lesotho and how they can best utilize it during their service. In addition to technology sessions, I also worked with staff to manage and distribute the Kindles as well. The last group that arrived (ED '14) were the first to receive Kindles, and I described the project in this post from last October. The primary complaint with the Kindle DX was that it was difficult to read by candlelight. So Peace Corps Lesotho decided to go with the Paperwhite model this time around. So far the feedback has been very positive. The amount of paper saved by using the Kindles to present the training material is insurmountable!
At the time of writing this my mother, sister, and my neighbor PCV's mom are on their way for a 2 week stay in Lesotho, Swaziland, and South Africa. Coming with them is my DSLR which I opted not to bring due to an ill-conceived notion that it would make me stand out. Now I realize that isn't the case and can't wait to start taking high quality pictures of this unique region of the world!