RPCV – Returned Peace Corps Volunteer. Why is it referred to as "returned" and not "former"? Well, from the very beginning we were told that Peace Corps service lasts a lifetime. The all-important third goal of the organization, as decreed by President Kennedy, is "to promote a better understanding of other peoples on the part of Americans". This goal can be realized in many different ways in the years after service. I found myself hitting the ground running in this respect by receiving an invitation to speak to the World's Cultures students at my former employer- Maine West High School. I also received a similar invitation to discuss the Peace Corps with the St. Mary of Vernon Men's Club. In addition, the month of August was filled with joyous reunions with friends and family. Many stories and experiences were shared, and the scope of disseminating information about the beautiful Basotho culture became very clear.
MWHS Presentation
Maine West High School (MWHS) was an integral part of my service. Through two different rounds of penpal letter exchanges, a strong connection was formed between my students at Thaba-Tseka High School (TTHS) and the World's Cultures students at MWHS. I maintained contact with the Social Sciences department throughout service, and by the conclusion I was offered to come in and speak to the very students my pupils at TTHS were corresponding with.
It goes without saying that spending two years teaching Basotho students about computers, science, and American culture was a vast learning experience for an instructor. Transferring those skills to an American audience took some extra thought and planning. However, in the end it was a valuable experience and the students appeared to be highly engaged. I left 10 minutes at the end of each period for open dialogue or questions. The lessoned learned from this was to allot more time at the end in the future!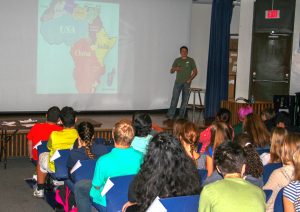 In total, I presented to a different class for 9 consecutive periods, totaling over 500 students. It was exhausting but very much worth it! Judging off the level of participation and the questions the students presented, it was clear they it was a subject they found well worth their interest. This ultimately creates a positive experience for everyone involved. Personally, it was highly satisfying to teach pupils about the Basotho culture. I look forward to giving similar presentations in the future!
St. Mary of Vernon Men's Club Presentation
In much the same manner as the MWHS presentation, I was invited to speak at the St. Mary of Vernon Men's Club as well. This particular exhibition was intended to bring home the story of the project they funded to provide seed money for an orphan to create a sustainable car wash business. A different audience, to be sure, so it was nice having a bit more freedom to discuss perhaps the more unsavory sides of the developing world. It's one thing to describe the effects of poverty and widespread disease. But to explore the roots and contributing factors sometimes will illicit content that can be deemed inappropriate for a school audience.
The presentation was a success and it was great to describe the experience and answer questions to the distinguished gentlemen of the club. My personal time as a member fell between post-college and Peace Corps and was but 2 years. However, that was plenty of time to establish an appreciation for the club's work and it was a defining experience that I'll always hold near my hearth.
– –
My next and final post on this blog will come on the one-year anniversary since closing of service in Lesotho. It will detail the transition back into the United States, the doors Peace Corps opened professionally, and most importantly, the lessons learned from living and working with the Basotho for 2 years as well as the continued sustainability of projects started in the country. I also have lofty ambitions for what will eventually become of the all the content posted here since June of 2013.
As always, thanks for reading!